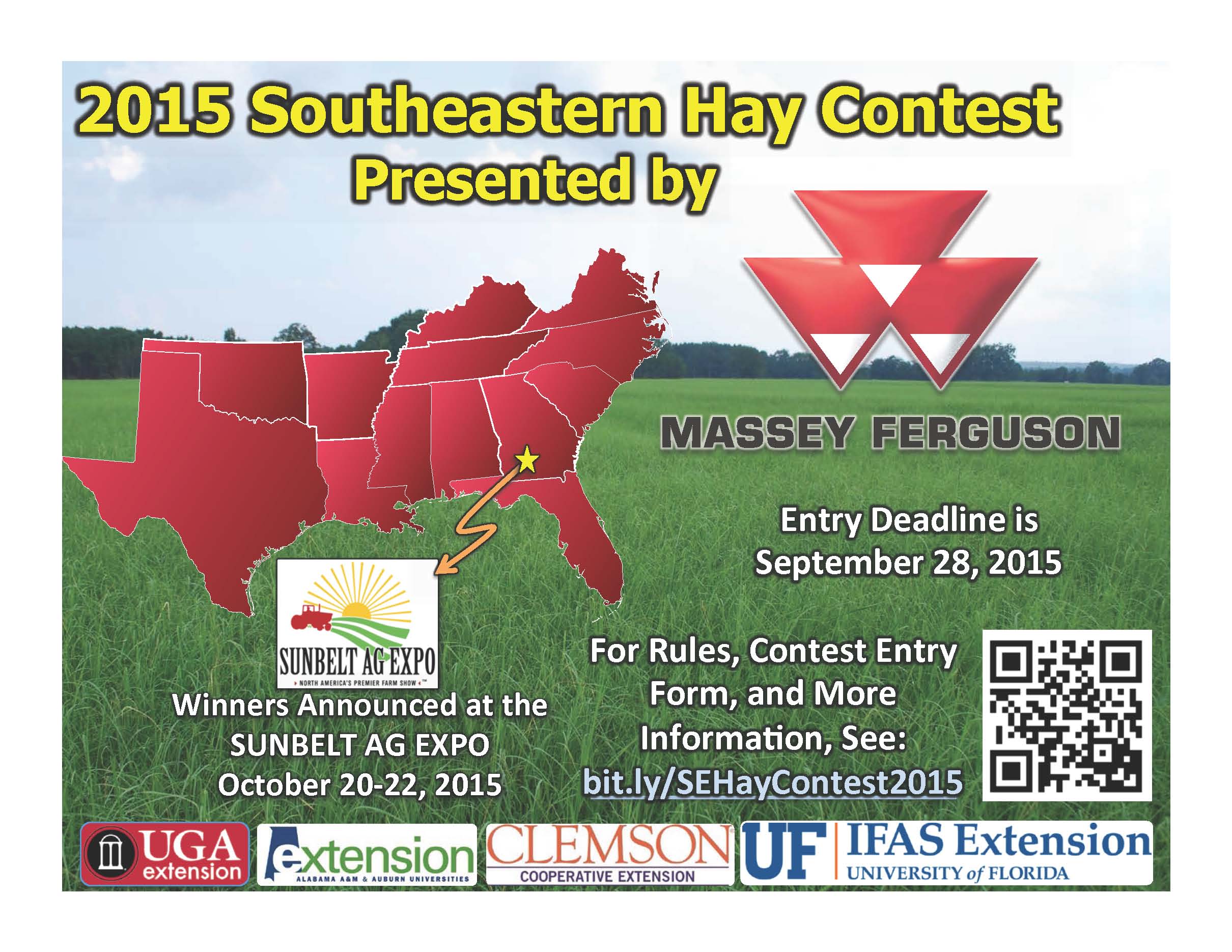 Since 2004, the Southeastern Hay Contest has been spotlighting high quality hay and baleage production in the Southeast. The SE Hay Contest is run in conjunction with the Sunbelt Ag Expo and our winners are announced each year on the first day of the Expo.
The goal of the contest is to demonstrate the potential to produce high quality hay and baleage, showcase the management abilities of our southeastern growers, and highlight the technology and equipment that make it all possible! There are many economic reasons why southeastern growers have increased the quality of the forage they produce (e.g., unprecedented prices in the livestock sectors, great demand for their products, need for efficiency due to high input costs, etc.). But, the keys to success have been timely management, improved forage varieties, advanced harvest equipment, and related technologies that have come to the market over the last 10 years.  It is hard to recall a more exciting time in the hay and forage industry!
Building on the success of the first 10 years of this annual event, new sponsorships have really made participation even more attractive for hay and baleage producers!  Plus, perennial peanut and alfalfa now each have their own categories, so everyone will be competing with the same species.
To qualify for entry to the SE Hay Contest, the producer and submitting Extension Agent must complete the Contest Entry Form. This form, along with a $ 17 check ($ 15 for the testing fee plus $ 2 for Hay Contest entry fee) made payable to UGA FEW Lab, MUST BE SUBMITTED SIMULTANEOUSLY to:
Southeastern Hay Contest
Feed and Environmental Water Lab (FEW)
2300 College Station Road Athens, Georgia 30602-4356
All Entries Must Be Received by the FEW Lab by:
5 p.m. on Monday, September 28, 2015
So, is your hay and baleage the class of the field? Think you can vie for a winning combination? If so, then check out the rules and entry forms and enter today! The deadline for entry into the SE Hay Contest is 5 p.m. on Monday, September 28, 2015.
While you're at it, take time to advertise your high quality forage in the 2015 SE Hay Directory. The SE Hay Directory seeks to connect our high quality forage producers with buyers who value this product. Read more about the SE Hay Directory on page 4 of the SE Hay Contest and Hay Directory Rules and Entry Form.