Tuesday, June 4, 2013     6:30 – 9:30 PM Central Time

Jackson County Agriculture Conference Center
2741 Pennsylvania Avenue, Marianna, Florida
The Florida Department of Agriculture and Consumer Services (FDACS) is developing a Cattle Identification Rule which will go into effect January 1, 2014.  They are seeking feedback from cattle producers on the draft version of the rule, and will be hosting five listening sessions across the state.  The listening session scheduled for the Panhandle will be Tuesday, June 4 at the Agriculture Conference Center, Jackson County Extension, 2741 Pennsylvania Avenue, Marianna, Florida.
The proposed Florida Identification Rule will require all adult cattle and bison transported within Florida  be identified with official USDA tags. In March 2013, USDA developed a federal rule requiring identification of adult cattle and bison which cross state lines, so Florida's rule would meet the requirements of the new USDA Animal Disease Traceability Rule.  The purpose of both the federal and state identification rules are to greatly enhance the ability of FDACS and USDA to trace livestock ownership in the event of a serious animal disease outbreak.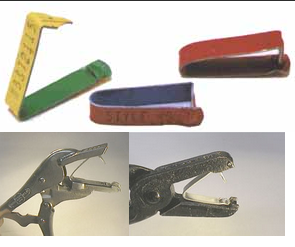 The rule does provide some exemptions: cattle being transported directly to a slaughter plant, transported from one part of an operation to another of the same ownership, or transportation to an approved tagging site, such as a livestock market.  Livestock markets would also have the option of selling untagged cattle as a slaughter-only class.  Additionally, cattle under 18 months of age would be exempt, expect those being transported to interstate, or out-of-state shows, exhibitions, rodeos, or recreational events.
The tags used for identification must be those approved by the USDA with the official US Shield which contain numbers tracked by the manufacturers in an approved database.  Producers would also have the option of obtaining official USDA metal tags at no cost to the producer.
Cattlemen still have an opportunity to provide input into the Florida Animal Identification Rule before the rule is finalized in 2014. FDACS will be working closely with the Florida Cattlemen's Association, the Livestock Market Association, and the Florida Animal Industry's Technical Council to develop the final rule.  The Listening Session to be held in Mariana is the scheduled opportunity for producers from the Panhandle Region to provide feedback on this draft rule. Now is the time to become informed and offer suggestions before 2014.
For more information on Florida Cattle Identification Rule:
For specific questions contact:
Stephen Monroe, FDACS Division of Animal Industry
850-410-0944  
Websites with links to additional information: