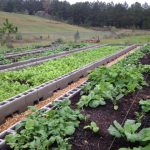 Funding Announcement
The Florida Department of Agriculture and Consumer Services (FDACS) has received funding from the 2017 National Organic Certification Cost Share Program (NOCCSP) , which is a program of the United State Department of Agriculture, Agricultural Marketing Service (USDA-AMS). These funds will be used to reimburse growers, handlers, and processors for a portion of certification costs for USDA Organic certification obtained between October 1, 2016 and September 30, 2017. Applications must be signed and postmarked by October 31, 2017. Please note that funds are available on a first-come, first-served basis until all funds have been expended. Please see the Florida Organic Growers (FOG) website for more information on the program.
Purpose
The purpose of the NOCCSP is to reduce the cost of organic certification by reimbursing producers and handlers up to 75% of costs incurred to obtain USDA Organic certification (up to a maximum of $ 750 per category of certification).
Eligibility
In order to be eligible for reimbursement through the 2017 NOCCSP, an applicant must meet the following criteria:
The operation must possess current USDA Organic certification. Operations with suspended or revoked certification are not eligible for reimbursement.
Certification must have been initially obtained or renewed from a USDA-accredited certifying agent between October 1, 2016 and September 30, 2016.
The certified operation must be located within the borders of Florida.
The operation must not already have received NOCCSP reimbursement from the State of Florida during the present funding year.
Application must include:
Certification costs, including proof of payment
A completed W9 form
Copy of organic certificate
Eligible Costs
Application fees
Inspection costs
Fees related to equivalency agreement/ arrangement requirements
Travel/per-Diem for inspectors
User fees
Sales assessments
Postage
Contact For Questions