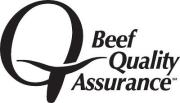 Beef Quality Assurance (BQA) is a nationally coordinated, state implemented program that provides systematic information to U.S. beef producers and beef consumers.  Common sense husbandry techniques can be coupled with accepted scientific knowledge to raise cattle under optimum management and environmental conditions. BQA guidelines are designed to make certain all beef consumers can take pride in what they purchase; and can trust and have confidence in the entire beef industry.
BQA programs have evolved to include best practices around good record keeping and protecting herd health, which can result in more profits for producers. When better quality cattle leave the farm and reach the market place, the producer, packer, and consumer all benefit. When better quality beef reaches the supermarket, consumers are more confident in the beef they are buying, and this increases beef consumption.
Every rancher and their employees should get BQ certified.  Also, ranchers who sell in the Alabama or Georgia board sales are required to have current BQA certification.  If you were trained in 2006, when the Florida BQA training team came to Marianna for the Beef Conference, your certification is out of date.  Producers have two options to become re-certified or to gain initial certification.
There will be a BQA training held on Tuesday, June 12th at the Coffee County Extension Office at New Brockton from 6:30 – 8:30 p.m. This training is free of charge, but be aware that no meal will be provided at this event.   For more information on this event, contact Rickey Hudson, Regional Extension Livestock Agent, 334-726-6814.
The other option is to receive the training online.  The training module for cow-calf producers takes approximately 3 hours to complete.  There is a $ 25 registration fee to receiving the certification from the online modules.  To access the online BQA training go to:  http://www.bqa.org/Florida.aspx
Doug Mayo